Last updated on 22 September, 2020, 13:45:35. Updates are done Tuesdays.
Pour le français cliquez ici
Current forecast of hospital use for COVID-19 patients in the Ottawa area. Created by the team behind ProjectBigLife.ca at The Ottawa Hospital and the University of Ottawa with input and data from Ottawa Public Health.
NOTE: Observed hospitalization data from Ottawa Public Health is now being used as the Ottawa COVID-19 Database is now released.
Dashboard
Data to 2020-09-21
Current
11 confirmed COVID-19 patients in hospital.
Including 9 acute care patients. 2 ICU patients.
Short-range forecast
About the same patients in the following week, reflecting a current no growth (flat) of Inf days (daily growth of 0%).
Long-range forecast
10 to 700 peak patients in Ottawa between Sep 2020 & Feb 2021.
Definitions
Hospital census is the count of patients in all Ottawa hospitals at midnight on the previous day.
Transmission is the risk that a person becomes infected when they come in contact with a person with COVID-19.
Doubling time refers to the time it takes for the number of hospitalized patients to double in number. Conversely, halving time refers to the time it takes for the number of hospitalized patients to halve in number.
Daily growth is the rate of change in the hospitalization from day-to-day.
Physical distancing is a reduction in close contact between people.
Wise socializing is ensuring you don't become a link in a COVID-19 transmission chain that ends in a person becoming hospitalized or dying. This involves wearing a mask in indoor spaces, isolating yourself from others when sick, staying 2 meters apart from people outside your household, and exercising proper hand hygiene. Click here for more details on being COVIDWise.
See More page for more information about the terms used.
---
Past hospital use
Note: As per Ottawa Public Health, hospital data reflecting the past 3-5 days should be considered preliminary as data is still being received and entered for this time period.
---
---
Projected hospital use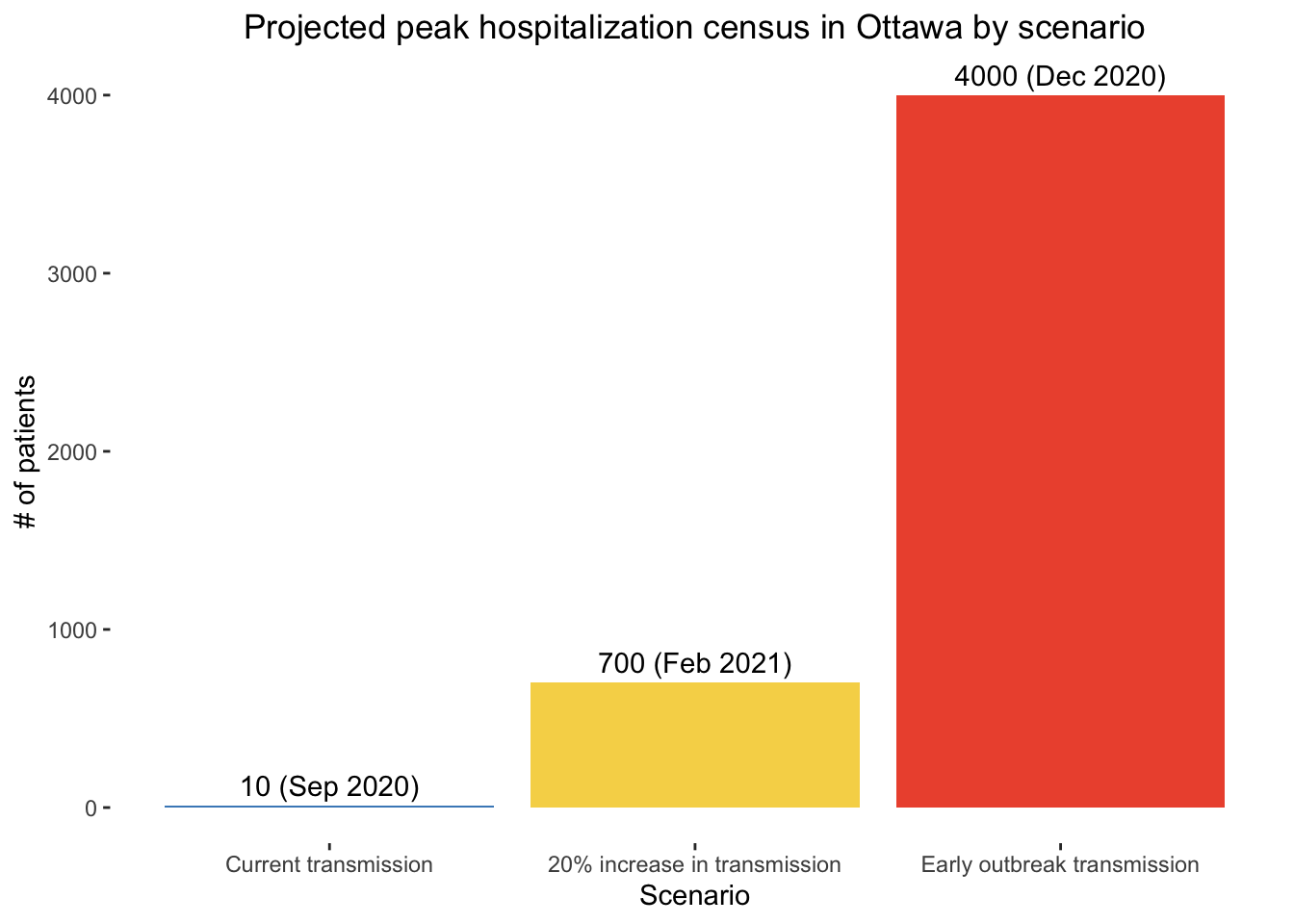 The hospital census forecast of:
10 patients on Sep 2020 is based on the previous week's growth rate of 0%.
700 patients on Feb 2021 is based on a 20% increase in COVID-19 transmission.
4000 patients on Dec 2020 is based on a return to COVID-19 transmission to the beginning of the pandemic in March 2020.
---
---
---
Past deaths
---
---
Note: The number of deaths in the last 3-5 days may not reflect the actual number of COVID-19 deaths as case investigations are ongoing to determine earliest onset date.